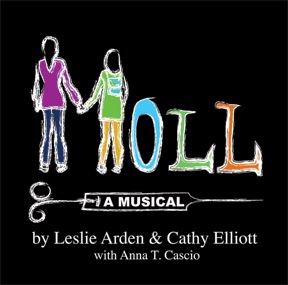 Music & Lyrics by Leslie Arden
Book by Leslie Arden & Cathy Elliott, with Anna T. Cascio
Cast of 14 or more 9W 5M
Very loosely based on "Moll Flanders", this story of an orphan's struggle to rise above her station resonates as much today as it did in Dafoe's time.  Born in a contemporary city to a suicidal drug addict, raised in foster care, abused and desperate, Sarah adopts the name Moll when she becomes a sex worker at the age of seventeen.  Her effort to leave the sex trade and further her education is thwarted by her employer Dahlia's machinations to maintain Sarah's high track hooker status.  She finds salvation through caring for her young foster sister Katie, and with the help of her lovers James and Jenny, she navigates her way out of the "Life" and into a future with a family, a home and a hope in hell.
Better Man Than Most

- Leslie Arden
It's Never Gonna Work

- Leslie Arden
Other Means Of Escape

- Leslie Arden
Moll Finale

- Leslie Arden